When you plan your vacation, you may put together an exciting itinerary of activities. One thing you likely won't plan is what to do if you suffer a personal injury at your hotel. Hotels must uphold a duty of care to every guest and staff member. However, hotel negligence seems to be on the rise since many cut corners regarding keeping the property safe.
With a lack of adequate security and failure to maintain proper standards of safety on the property, there's a greater chance that you may suffer an injury at a hotel. In that case, you'll want to know how to sue a hotel for negligence.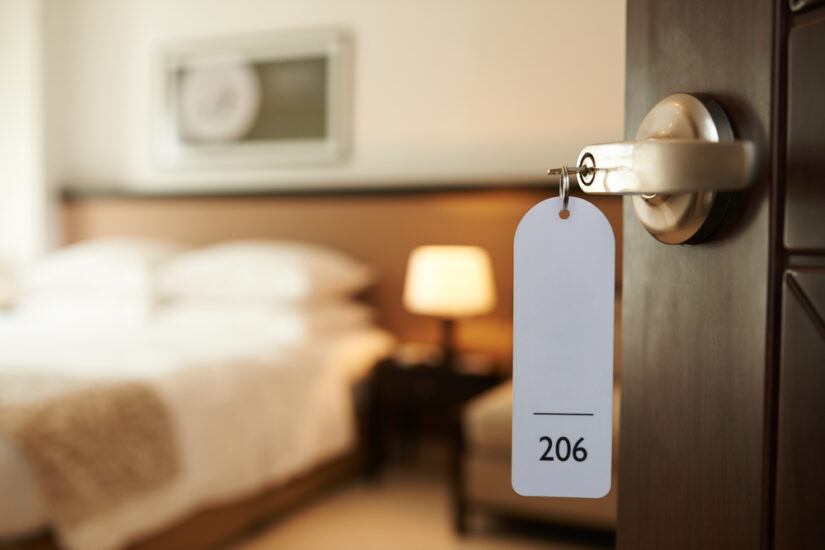 Most Common Causes of Injuries in Hotels
California hotel owners and operators can be held accountable for guest injuries in certain situations. When the hotel premises are not properly maintained or repaired, it creates a hazardous environment for any hotel guest.
If you're traveling for business or pleasure, you should reasonably expect your hotel to be safe. Sadly, some hotel owners are negligent in their duty to provide you with accommodations that are free of danger.
Here are the most common injuries that arise because of a hotelier's negligence:
Slips, Trips, and Falls
By far, slips, trips, and falls top the list of hotel injury claims. When a hotel owner fails to maintain the property regularly, it can lead to catastrophe. Among the daily hotel duties, the steps, sidewalks, floors, hallways, and parking areas should be properly maintained.
Regular maintenance of these areas involves routine cleaning and structural repairs when there is damage. Should something require more extensive repair, there should be clear signage to warn guests of the danger ahead.
Many people report during hotel stays that the hand railing on stairs is broken or missing. Additionally, dimly lit areas, loose objects in walkways, loose carpeting or tile, spills, cracked or uneven pathways, and slippery surfaces in the pool or hot tub area are all commonly cited in slip, trip, and fall accidents.
According to the National Floor Safety Institute (NFSI), floors are the most dangerous, especially in hotel bathrooms. In a report issued in February 2022, hotels were listed as the most impacted by slips and falls due to the highly polished ceramic flooring near showers and tubs.
Hotel slips and falls become deadly when hotel guests slip, fall, and hit the back of their heads on a hard surface. In many instances, when a hotel guest is alone during a slip and fall, they may lose consciousness and can't call for help, which may result in their death.
Even more astounding, there are no slip resistance standards or safety requirements despite the existence of high-traction floors and floor cleaners proven to prevent these tragedies.
Assault
Whenever you stay in a hotel, it's reasonable to expect a level of security in those accommodations. You shouldn't have to fear that someone will intentionally bring you harm or assault you.
When hotel property owners do not provide adequate security measures, serious crimes can occur. While the person who committed the crime will be primarily liable, you may want to know how to sue a hotel for negligence if inadequate security led to your attack. The same is true of negligent security staff employed by the hotel to keep guests safe.
The owner of a hotel has a duty to keep all guests safe. They must invest in highly secure locks for doors and windows. Additionally, they must provide secure key cards for doors and have security cameras installed. If you stay in a hotel and are assaulted, you can file for damages if the hotel lacks security features which could have prevented the attack.
Hotel Injuries Caused By Defective Exercise Equipment
Amenities at a hotel may very well be the reason you choose to stay there. If you're on a business trip or a vacation, keeping up with your exercise habits may be of great importance to you.
While you should know that there will always be a risk of incurring physical injury when you work out, you should reasonably expect the fitness equipment the hotel provides to be in good condition. When hotel staff fails to maintain this equipment, personal injuries can occur.
Perhaps you were jogging on the treadmill in the hotel's fitness center, and you got injured because of the equipment malfunctioning. You could then sue the hotel for compensation.
Is a Hotelier Liable for Guest Injuries?
A hotel property owner can be held liable when hotel guests are injured on the property. This falls under premises liability, which is a type of liability that states owners of properties can be held liable for injuries to guests on that property. With premises liability, the owner or manager can also be held liable for the actions of hotel employees.
When guests file a hotel accident claim, it is usually because of negligence of the hotelier or their staff. If the hotelier failed to do something it was responsible for to ensure the safety of their guests, then negligence needs to be proven.
A hotel owner has a duty of care to their guests. Guests should feel safe on the premises and not worry about hazards that can inflict life-altering injuries. The hotel's owner or manager must take care of the property to uphold this basic protection to all guests as well as hotel staff.
Therefore, common hotel duties include keeping the hotel and grounds safe. The property should also be checked regularly for any unsafe conditions. If something unsafe is found, repairs should be made promptly. In the event that the repairs cannot be made quickly, signage should clearly warn guests about dangerous areas.
Security measures for all guests should be provided and it is reasonable to expect that the hotel owner hires and trains staff and performs thorough background checks. Health and sanitation issues should be under control as well, such as insect infestations and food safety. All guests should feel safe within their guestrooms with locks that function as intended.
How to Prove Hotel Negligence
In order to prove hotel negligence, you must show that hotel staff or the hotel property owner was responsible for your injuries. A hotel owner is negligent when they fail to adequately protect guests and employees.
Hotels that are irresponsible with supplies or keys, lack proper security, fail to provide reasonable service, or fail to remove hazards that can lead to injury are considered negligent. A hotel owner who fails to keep a sanitary environment that leads to illness or injury can also be held liable.
You can prove that a hotelier was negligent by gathering physical evidence, interviewing staff about hotel policies, and rounding up eyewitnesses. However, it can be difficult to do all of this on your own, which is why hiring an experienced attorney is important.
What to Do If You've Been Injured While Staying in a Hotel in California
If you were injured while staying in a California hotel, there are a few things you should do before you make a hotel injury claim.
For starters, you should take photos and videos of where you had your hotel accident. Capture it from every angle as the hotel may try to remedy the situation to avoid a hotel negligence lawsuit. Security camera footage may even be erased, leaving only your photos and videos to tell the story of what happened.
Additionally, you will want to notify hotel management, then seek medical treatment. If your injuries are severe, you should call 911. However, even if you don't think you have serious injuries, it's best to get checked out. If doctors find a head injury or internal bleeding, you will need documentation to obtain financial compensation.
Above all, you will want to speak to a lawyer about a personal injury claim. If the hotel owners were negligent, they could be held liable. Working with a lawyer allows you to recover from your injuries while they obtain video recordings, keycard timestamps, medical records, and eyewitness testimony.
While many hotels will cooperate, proving hotel negligence can be a challenge. You must gather evidence quickly and pursue your case before the statute of limitations runs out.
Maho | Prentice, LLP can help you prove that the hotel management failed to exercise reasonable care, resulting in your injuries. With a seasoned personal injury attorney on your side, you will have someone to fight the hotel's insurance company to get you fair compensation.
Injury victims can sue a hotel for medical bills and other damages when the hotelierl is found to be liable. Schedule a free consultation to discuss your personal injury lawsuit with Maho | Prentice, LLP in Santa Barbara, California.