Los Angeles Car Accident Lawyer
A Los Angeles car accident is a traumatic and challenging event that can cause many issues. Serious injuries, lost wages, future medical expenses, and property damage are all serious concerns because you and your loved ones could suffer traumatic injuries. Motor vehicle accidents could cost thousands of dollars in damages and medical expenses.
Getting in touch with a car accident attorney can be the difference between losing and winning a car accident case. At Maho Prentice LLP, we dedicate our time and knowledge to build a strong case to get you the compensation you deserve. Our Los Angeles car accident attorneys are legal professionals who have the skills to navigate the legal system in the state of California towards a fair verdict. If you or someone you love has been in one or multiple car accidents in Los Angeles, California, do not hesitate to contact our law firm. A lot of work goes into handling a car accident case.
If the negligence or reckless actions of another driver caused your injuries, call Maho Prentice for a free consultation. Our team will do everything the California laws allow to ensure you can return to your normal life and restore your financial situation as soon as possible. While we cannot prevent car accidents from happening, we can help you and your loved ones to get fair compensation. Call us at 805-962-1930 to us discuss your case!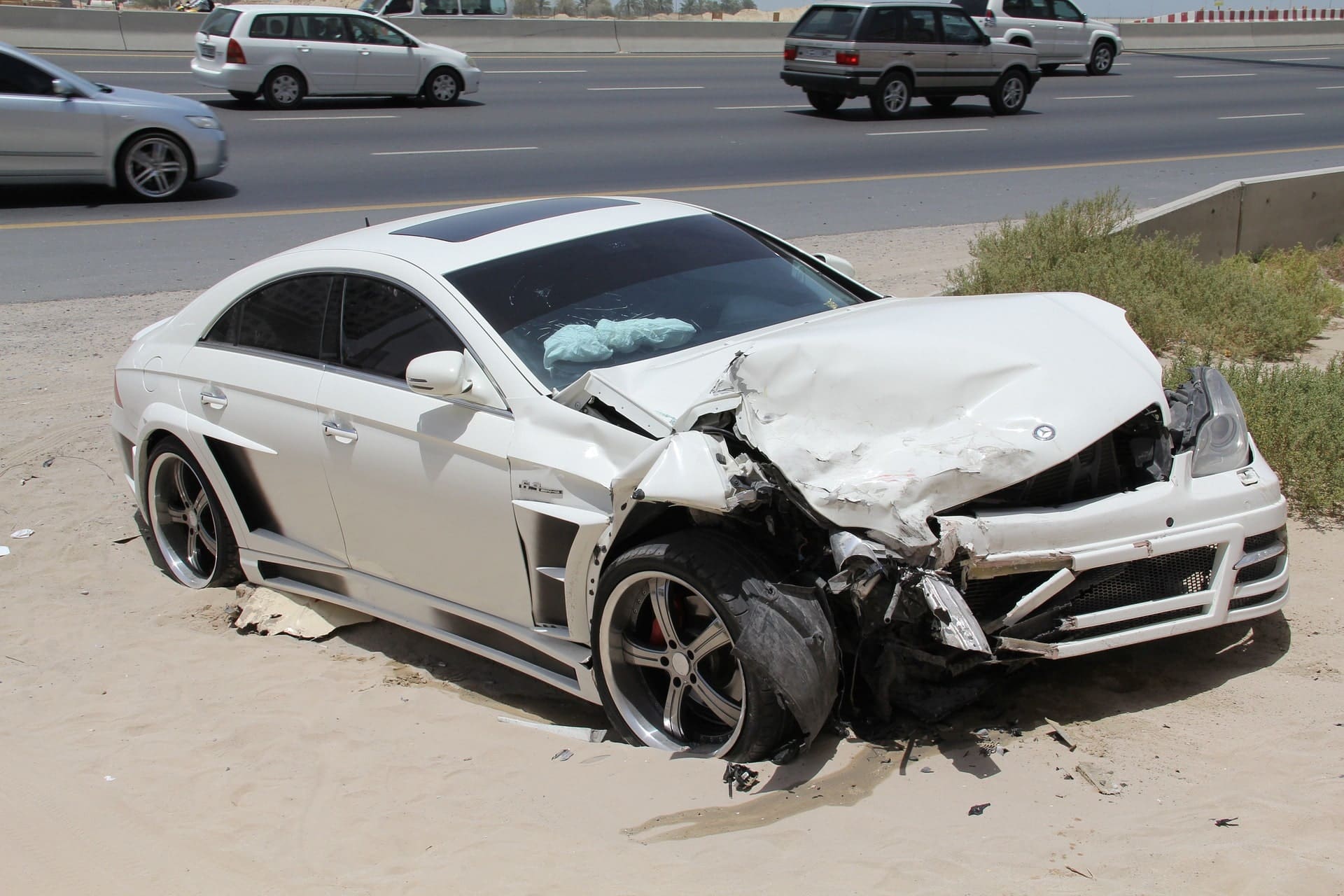 Los Angeles Car Accident Statistics
Los Angeles has some of the worst traffic in the United States. The Centers for Disease Control (CDC) states that motor-vehicle-related injuries are the leading cause of death for people aged 5 to 34. California accounts for nearly 12% of the country's auto deaths.
According to the National Highway Traffic Safety Administration, in 2016, more than 3,600 people were killed in car accidents in Los Angeles. In 2018, at least 91,462 people suffered catastrophic injuries or were killed in car accidents in Los Angeles County, with more than 39% of them happening within the city limits of Los Angeles. Of the motor vehicle fatalities in Los Angeles:
2,801 involved alcohol

3,563 involved pedestrians

1,908 involved bicyclists

1,688 involved motorcyclists

4,178 were speed-related
The five most dangerous intersections in Los Angeles are:
Devonshire St. and Reseda Blvd.

Imperial Highway and Vista Del Mar – Playa Del Rey

Balboa Blvd. and Nordhoff St. – Northridge

Firestone Blvd. and Lakewood Blvd. – Downey

Lindley Ave. and Roscoe Blvd. – Los Angeles
The Most Common Types of Traffic Collisions in Los Angeles
People can be involved in different types of car accidents, but motorcycle accidents are also fairly common. Whether you get into a car crash on the city streets or rural roads, you should call an experienced car accident lawyer as soon as possible.
Rear-End Collisions
A rear-end collision happens when a car hits the back end of another car in front of it. In most rear-end cases, liability is due to the driver not paying attention to the road or following too closely. Minor rear-end collisions can lead to back injuries, neck pain, headaches, or whiplash. Fortunately, most rear-end collisions are minor car accidents. However, car accident victims in serious rear-end collisions can suffer from airbag injuries, spinal cord injuries, or facial disfigurement. A car accident lawyer can significantly increase the chances of getting maximum compensation in such situations.
Head-on Collisions
A head-on collision occurs when the front of one vehicle crashes into the front of another car coming from the opposite direction. Such accidents usually happen due to the driver falling asleep at the wheel, not paying attention, or driving while intoxicated. They are typically very violent because they occur at high speeds.
Multiple Vehicle Collisions
Multiple vehicle collisions are common on Los Angeles' major freeways because of the high number of vehicles spread across 6 to 8 lines. If any of the cars stop too suddenly or even change lanes without signaling, they could cause crashes involving three or more cars. If large trucks are involved in collisions, the scene can become catastrophic.
Hit and Run
According to Los Angeles Police records, there are about 20,000 hit-and-run accidents every year, leaving car accident victims to deal with the repair costs and medical bills. Most hit-and-run drivers do not get caught, but victims are still entitled to seek compensation for their injuries. They can seek compensation for past and future medical costs, lost wages, lost earning capacity, property damage, and pain and suffering.
If you or someone you love has been in a hit-and-run accident, you need to call a Los Angeles car accident lawyer to submit your car accident claim as soon as possible. Suppose the hit-and-run crash occurred while you were driving. In that case, you can increase your chances of getting compensation by gathering information such as the car's license plate number, model, make or color, witness statements, or a description of the driver.
On the other hand, if the hit and run crash happened in a parking lot, our law firm will need to check with the lot owner to find potential suspects. In both instances, you need to report the hit-and-run incident as soon as possible because you might forget details about the accident scene later on.
The Most Common Types of Car Accident Injuries
Car accidents can result in all types of injuries, depending on the accident's severity. Some of the most common car accident injuries are:
Traumatic brain injuries (TBI)

Spinal cord injuries

Nerve injuries

Internal injuries

Crush injuries

Broken bones

Torn ligaments

Cuts and lacerations
Severe accidents can cause traumatic injuries such as head and brain injuries, paraplegia, or quadriplegia. While some car accidents result in minor injuries, most car accident victims are not immediately aware they have suffered any injuries. But they can present symptoms days or weeks following the car accident, including pain, dizziness, or discomfort.
For that reason, it is vital to seek medical help after you have been involved in an automobile accident, no matter how mild your injuries may seem. If you fail to get medical treatment, your injuries may worsen over time, and your car accident claim may be harder to prove.
What to Do After a Los Angeles, CA Car Accident?
If you or someone you love has been in a car crash, there are some steps you should follow. As difficult as it may seem, try to remain calm. Firstly, check for injuries. If you or someone else is injured, call 911 so they can send an ambulance. No matter how minor your injuries may seem, it is vital that a medical professional evaluate you.
Some symptoms do not appear right after the accident, so for your well-being and health, you should get your injuries diagnosed, reported, and treated. The medical record will increase the chances of obtaining fair compensation for your injuries.
If possible, try to move your car to the side of the road. Then notify the local authorities so that they can write a car accident report. If your car accident occurred on a freeway, the California Highway Patrol would most likely come to the accident scene.
If the accident took place on a surface street within Los Angeles county limits, then the Los Angeles Police Department will be dispatched to the scene. You or your attorney should request a copy of the police report when it's completed, as it will serve as proof in your car accident case.
The next step is to get the names, addresses, and telephone numbers of the other drivers and passengers involved. If there were any witnesses, obtain their names and contact information too.
Then gather as much information as possible. Document the car accident scene by taking photos of skid marks, traffic signs, damage to the cars, tire tracks, or your injuries or recording the surroundings. Continue by notifying your insurance company about the accident.
Next, notify the DMV. In California, it is mandatory to report a car accident to the Department of Motor Vehicles within ten days of the accident if it caused more than $1,000 in property damage or resulted in someone's death.
Contact a Los Angeles car accident lawyer for a better chance at receiving fair compensation. Insurance companies will most likely attempt to lower the payout because they do not have your best interest in mind.
At Maho Prentice LLP, our Los Angeles auto accident attorneys will fight for your rights and dispute any measures the opposing party may use against you. We will investigate all the evidence to build a strong car accident claim and get the maximum compensation for your injuries or damaged property.
How to Prevent a Car Accident in Los Angeles, California
California has complex motor vehicle accident laws that all car accident victims should understand. To avoid becoming a victim or being at fault for an accident, consider the following steps:
Keep your eyes on the road at all times. Studies have shown that almost 90% of auto accidents occur

due to distracted driving

. Car accidents take only a few seconds to happen, so always stay focused.

Put your phone down, and turn off your notifications, alerts, and texts until you have reached your destination.

Avoid operating technology when driving.

Follow California driving laws and respect the speed limits to avoid reckless driving incidents.

Always expect the unexpected. Be prepared to take action at any time if something occurs.
Variables That Can Determine the Value of a Car Accident in Los Angeles
Car accidents occur unexpectedly, often causing severe consequences. There are some factors that determine the value of your settlement amount. These factors can either increase or decrease the amount of compensation you receive.
Accident Severity and the Extent of Your Injuries
According to personal injury law, the severity of the car accident is a vital determining factor of your personal injury claim. The severity of your injuries and losses indicate how bad the car accident was and the amount of your payout. The most common factors that determine the value of your claim include:
A permanent injury such as scarring, disfigurement, paralysis, or loss of limb

A long-term or undetermined recovery period

Diminished quality of life

A catastrophic injury such as brain trauma, nerve damage, or spinal cord damage

Reliance on medication or medical devices

Physical or emotional stress following the car accident
For example, minor injuries such as bruises, sprains, or strains will likely result in lower settlement amounts. Moreover, the insurance companies will try to reduce your compensation by devaluing your personal injury claims if one of the following variables is present:
No permanent injury

No medication was prescribed for your injuries

You received brief medical treatment

Medical expenses were for diagnosis and not treatment

You had a pre-existing condition
The Quality of Evidence
Both the amount and quality of evidence are vital in a personal injury case to determine the at-fault party. Evidence will show that you were injured, that someone else's negligence caused your injuries, and you suffered losses because of the car accident.
At Maho Prentice, our car accident attorneys know how to gather, preserve, and present evidence. To get the best result, we will conduct interviews and gather testimonies from the car accident witnesses, we will obtain the police and medical records, present photos of your injuries and the property damage, and will use our knowledge of the state traffic laws to cite the vehicle codes relevant to your case.
Proof of Liability
To increase the chances of obtaining the maximum compensation available for your car accident case, you must prove that someone else was at fault for your injury. Proving liability is at the core of your personal injury claim or car accident lawsuit. In a car accident claim, you need to show that:
The other driver had a duty to operate their car in a safe manner

The other driver breached this duty

The negligence of the other driver caused the car accident

The car accident directly caused your injuries or monetary damages
The driver can be found guilty of negligence due to speeding, distracted driving, driving under the influence, tailgating, improper turns, wrong-way driving, disobeying traffic signals, and failure to stop or yield. If you file a claim against a government entity, you must prove negligence due to poorly marked construction zones, poor road maintenance, defective road design, and the like.
Insurance
Every state has its own rules and regulations when it comes to car insurance. Moreover, each driver is required by law to have a minimum amount of coverage if a car accident happens. Under California laws, all drivers must carry the following minimum liability insurance coverage:
$15,000 for injury/death to one person

$30,000 for injury/death to more than one person

$5,000 for damage to property
Drivers should always aim for insurance above the state limits so they can cover severe accidents.
California Statute of Limitations
If you or someone you know wants to file a car accident claim, you must keep in mind your state's statute of limitations. All personal injury cases are subject to strict deadlines. As outlined in Cal. Code of Civ. Proc. § 335.1, the statute of limitations for car accident claims in California is two years from the date of the injury.
By failing to file a lawsuit within two years, you will lose the right to seek compensation because the court will refuse to hear anything about the case. Depending on the specific facts of your car accident case, the statute of limitations may differ. For example, a car accident claim involving governmental entities has a deadline of six months.
If you have a case, do not hesitate to contact an experienced car accident attorney to ensure that your case will be heard within the statutory window.
Why Do You Need a Los Angeles Car Accident Lawyer?
The aftermath of a car accident can be confusing and frightening. While the incident itself is scary, you can end up injured and unable to get back to work. Many drivers assume that they will be involved in a car accident sooner or later, but if this happens, no one is really prepared for the consequences.
When an accident happens, you will need a Los Angeles car accident attorney to help you get the compensation you deserve for your injuries, damaged property, pain and suffering, and other damages.
Hiring one of our car accident attorneys is a wise decision because the insurance claims adjuster will try to manipulate and lower the settlement as much as possible. We understand how insurance companies work, and we are ready to fight for your rights.
Our law firm will help you recover compensation for all your expenses, including future medical expenses, lost wages, loss of earning capacity, loss of property damage, and even loss of consortium.
Our legal team is dedicated to helping injured victims focus on their recovery and get back to their daily routine as soon as possible. We understand how challenging and overwhelming a car accident can be for the car accident survivors, so we are here to save you from the burden of medical expenses and fight for you to receive fair compensation.
If You Have Been in a Car Accident, Choose Maho Prentice, LLP
At Maho Prentice LLP, we will investigate all the evidence available to handle your car accident claim. Our team will offer exceptional representation by examining all the factors of your car accident case so you can concentrate on priorities like your family, job, or recovering from personal injuries.
Our law firm assists clients in finding the best medical attention and will act on your behalf to make appointments with your providers to treat you while pausing the medical expenses until your case is resolved via settlement or trial. We will handle all the interactions with all insurance companies involved and guide you on the steps to protect your best interests.
If the insurance company offers a low settlement, our team will take them to court to hold them accountable for the maximum value of your injuries.
Our Los Angeles, CA car accident attorneys care about their victims and work diligently until they receive justice. We will personally work with our clients and show them the compassion they deserve. Contact our office today at 805-962-1930 to schedule a free consultation with a car accident attorney. We are here to fight for you 24/7. Get legal representation now to guide you throughout the entire legal process.
Los Angeles Car Accident Frequently Asked Questions
It's understandable for you to have a lot of questions about motor vehicle accidents and severe injuries. Here are some answers to the most commonly-asked questions.
What is the normal settlement for a car accident in Los Angeles, CA?
There is no exact settlement for a car accident, no matter the city, as there are so many different factors to consider. But in most cases, the settlement may be limited to the maximum limits of the at-fault driver's policy. As stated by the California DMV, drivers are required to have coverage of at least $15,000 per person and $30,000 per accident. They also need to carry this amount in uninsured motorist insurance. Drivers must also carry a minimum of $5,000 for property damage.
If I caused a car accident, can I still recover compensation?
If you are at fault in a motor vehicle accident in Los Angeles, the eligibility for compensation depends on the degree of damage you have caused. California is a pure comparative fault state, meaning that your total recovery will be reduced by the percentage you have contributed to the accident. You can recover compensation even if you are considered to be 99% at fault. Suppose your total recovery is $1 million and you contributed to 25% of the accident, then your recovery would be $750,000.
A Los Angeles car accident attorney will review your car accident case and determine what payments you may be entitled to.
What happens if the at-fault driver has no auto insurance?
California law requires all drivers to have auto insurance, but this is not always the case for every driver involved in a car accident. If you have been involved in a car accident and the at-fault driver does not carry insurance, you can file a claim with your insurance company. If you have uninsured motorist coverage, you can check your policy and contact a representative to guide you through your options. But if you still need assistance with your car accident claim, a car accident attorney is the best solution.
Can you still take my case if I'm undocumented?
Yes. In the state of California, it is against the law in any civil case to use someone's immigration status against them. To put it simply, if someone's negligence has caused you injuries, it doesn't matter how or why you are in California. Crash victims, injury victims, pedestrian accidents, it doesn't matter. Contact our legal team right away!
Why should I seek medical care immediately after a car accident?
It is crucial to seek medical attention as soon as possible after a car accident to take care of your health. If you choose to wait longer than 72 hours, it will only make the insurance companies ask about the severity of your injuries.
The insurance companies will question your injuries because you did not seek medical attention in a reasonable amount of time after the accident. Not getting medical care could significantly affect your chances of receiving compensation and will give the insurance companies reason to think that the accident didn't cause your injuries.