Santa Barbara Amputation Attorney
A surgical amputation is required when damage to a limb or extremity is so severe that doctors must remove it to protect the health of the victim. The most common reasons for amputations are catastrophic accidents, illness, and congenital conditions.
When amputation injuries are caused by the negligence, recklessness, or misconduct of someone else, then the victim can file a personal injury claim to recover compensation for their losses, like their enormous medical bills.
Maho | Prentice, LLP Attorneys at Law has been representing the injured for decades in Santa Barbara. We handle a variety of personal injury cases that can result in amputation injuries, from car accidents to dog bites. Call us today at 805-962-1930 to learn more about how we can help you.
What is an Amputation Injury?
An amputation is the removal of a limb or body part, like the hand, arm, foot, or leg. Amputations can be due to traumatic accidents, cancer, infections, or other conditions. It's vital to get quality critical care to avoid infection, nerve damage, poor circulation, or pressure wounds.
After surgery, the site of the amputation will need continuous treatment and care for four to eight weeks to heal properly.
Then the amputee is fitted for a prosthetic limb and begins physical therapy to learn how to use it and move again. A physical therapist helps the injured person build muscle strength and relieve pain. A physiotherapist also advises them on types of prosthetics.
45% of all amputations are necessitated by traumatic accidents. A traumatic amputation injury can involve any body part.
Many people who suffered traumatic limb loss injuries report phantom sensation following the amputation and most reported feeling pain. In addition to their phantom pains, they suffer emotionally from enduring the accident and the pain of recovery.
It takes a team of professionals, from doctors to nurses to rehabilitation specialists, to help the victim. Because an amputation puts strain on the remaining limb, medical teams are also focused on keeping that other limb healthy and strong.
Most amputees also find it useful to join a support group of others, a part of their emotional care arranged by their care team. It can be reassuring to speak to other people who have lost a limb from illness, accident, military service, or another cause.
What are the Most Common Causes of Amputation Injuries?
The most common causes of traumatic amputation injuries usually involve some form of negligence.
Workplace Accidents
Falls are the most common type of workplace accident that result in amputation injuries. In 2019, slips, trips, and falls accounted for 32% of non-fatal injuries in the construction industry. Oftentimes, lack of protective gear, poor lighting, and lack of proper training are the causes of construction site accidents.
Auto Accidents
Car accidents can cause multiple injuries like brain injuries and limb loss injuries. A motor vehicle accident can cause amputation injuries when a part of the body is crushed, torn, or cut off, or when the victim suffers burns on the body that need to be cut away. Our law firm handles a variety of motor vehicle accident injury cases, including the following:
Bicycle accidents
Bus accidents
Motorcycle accidents
Truck accidents
Dog Bites
Dog attacks are sudden, frightening, and extremely painful. A vicious dog attack can result in the necessary amputation of the fingers, a hand, foot, toes, or other body part. Additionally, the injured person is at risk of infection from the dog bite. In California, dog owners are liable for damages suffered by anyone who is bitten by a dog while lawfully on private property or in a public place.
The Different Types of Amputations
A complete amputation occurs when a limb totally detaches from the rest of the body. With a partial amputation, some soft tissue connection remains intact. Surgeons may be able to reattach the severed body part.
An upper extremity amputation injury affects the shoulder, wrist, and elbow, as well as fingers. The majority of traumatic amputations are upper extremity amputations.
Lower extremities include the knees, hips, and toes. Physical rehabilitation can start within a few days or weeks after surgery to help the victim relearn how to walk, move, and live independently after an amputation of the foot, below the knee, above the knee, or the hip.
Amputation Injury Statistics
Approximately two million Americans live with limb loss It is estimated that 30,000 traumatic amputations occur every year. In 2018, there were 6,200 work-related amputations that resulted in time away from work, and 58% of them were caused by machinery.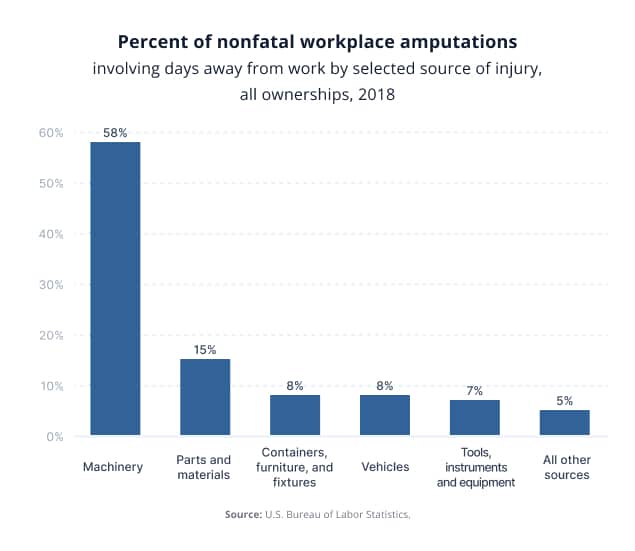 Although these statistics don't change your reality, a personal injury lawyer can help. Our law firm has successfully secured the maximum compensation for previous clients in their traumatic amputation and wrongful death cases.
Why Do You Need an Amputation Injury Attorney?
If you have suffered a personal injury from a car accident, then you may be entitled to compensatory damages. Call 805-962-1930 today.
To Get You The Compensation You Deserve
Our amputation lawyers fight hard to get the fair compensation that amputees deserve. You may be able to recover compensation, like economic damages and non-economic damages – in a personal injury lawsuit after an accident.
Economic damages are the financial losses related to your amputation injuries. All of your medical expenses, including pain management and physical therapy, lost wages, property damage, and other costs associated with your amputation injury case, are all added up to get the total economic impact of the accident.
Medical care for traumatic amputation injuries is extremely expensive. On average, medical costs for amputees are $140,000, plus the lifetime costs of continuous care.
The mental trauma from facing permanent disability may be intangible, but is very real. Non-economic damages compensate you for the emotional trauma of limb loss and chronic pain. You can recover non-economic damages in an amputation case if you suffer from post-traumatic stress disorder (PTSD), anxiety, depression, and other mental illness as a result of your lost limb.
To Prove Negligence
If you believe that your injuries were due to someone else's negligence, then you need to speak to one of our amputation injury attorneys right away. Examples of evidence that your amputation injury lawyer will gather include:
Any surveillance videos from the incident, such as traffic cameras or surveillance cameras at a business
The police report for a car accident or the incident report for a slip and fall.
Copies of your medical bills
Any photos you may have taken at the site of the accident or that someone else took
In order to recover compensation in a personal injury claim, you must also prove who is liable for the accident. We work hard to establish the following elements of negligence:
Duty of care: The defendant had a legal responsibility to not cause harm. For example, drivers owe a duty of care to other road users to be cautious behind the wheel and avoid traffic accidents.
Breach: They violated that standard of care, such as when a driver gets behind the wheel drunk or a property owner doesn't take care of a trip and fall hazard.
Cause: Your amputation injury lawyer will argue that had it not been for the defendant's actions, the traumatic accident wouldn't have occurred
Harm: The victim suffered a limb loss injury
To Negotiate With The Insurance Company
An amputation injury results in high medical bills, which means that the settlement will most likely be higher than the insurance company is willing to pay out in financial compensation. They will have a team of attorneys whose goal is to find ways to make you liable for the accident and reduce how much they have to pay out. Common arguments defense teams make include the following:
You were not obeying traffic laws at the time of the car accident
You were not following safety procedures on the job site
You have not followed your doctor's orders
The amputation injury attorneys at our law firm have faced tough opposition from large insurance companies, and have won what our clients deserve. Even as they try to reduce the defendant's liability, we present the facts and bring in witnesses to establish fault on behalf of the defendant.
Free Case Evaluation
Call us today at 805-962-1930 so we can schedule a free initial consultation with Maho | Prentice, LLP Attorneys at Law. There are no fees unless we recover compensation for you. There is no financial risk to get the legal consultation that you deserve, so reach out to us now.