Car accident victims often suffer injuries that create substantial financial hardship. It can be difficult for you to manage your wounds while dealing with hefty medical bills. Severe injuries, such as neck and back injuries, are common. Worst of all, you may require time off from work during your recovery. The lack of income can create additional stress and make matter worse.
If you're not at fault for your car accident, the other party is obligated to pay you for your damages. You can seek a personal injury settlement with the help of a car accident lawyer. The average car accident settlement is hard to nail down, but your attorney can help you estimate your case's value.
If you have suffered a neck or back injury after a car accident, you should seek prompt medical attention and legal advice concerning your serious injuries. Before you file a personal injury lawsuit, get guidance from reliable car accident attorneys. They can tell you what the average settlement value is and how much you are owed for your car accident injury. Reach out to Maho Prentice Law in Santa Barbara, California, for a free consultation on your personal injury case.
Types of Neck and Back Injuries
Your neck and back injury may be anywhere from mild to severe based on the type of car accident you experienced. In addition to less severe injuries like bruises or soft tissue injuries, you could experience catastrophic harm. Below are some of the most common forms of back and neck injuries.
Whiplash
The majority of neck injuries are whiplash, which happens when the head is suddenly jerked forward or backward in a motor vehicle accident. This can cause pain and stiffness in the neck, shoulders, arms, and back. A whiplash injury can create severe neck or back injury pain that prevents you from having full mobility of your head.
Pinched Nerves
Another injury is cervical radiculopathy — when the neck or back nerve roots are pinched by bones, disks, or other degenerative changes to the spine following high-impact car accidents. This can result in pain and numbness in the arms, shoulders, and back. Other injuries may include chronic neck problems like arthritis and spondylosis, which is a degenerative spine condition that can lead to severe pain.
Neck Fractures and Sprains
Another common neck or back injury caused by car accidents is neck fractures. Neck fractures happen when the neck bone is broken. Neck fractures are common in car accidents because of the force and trauma that results from a crash.
Neck sprains occur when a ligament or tendon is stretched beyond its normal limit. These injuries might not appear for days after the accident, but they can lead to pain and discomfort that could last for weeks or even months.
Herniated and Bulging Discs
A common spinal cord injury you may experience in a car accident is a herniated disc. Herniated disks in the neck can happen when your spine is suddenly jarred during a car accident. This spinal cord injury can cause the discs to burst, which can lead to pain and numbness in the back and arms.
Your car accident can cause other spinal cord injuries like bulging discs. Disk bulges can happen in a car accident when a disk ruptures and pinches the spinal nerve. This can cause pain, numbness, or weakness in the arms and legs.
Treatments for Neck and Back Injuries
The most common type of treatment for neck injuries is physical therapy. This includes massages, heat packs, electrical stimulation, ultrasound, and various exercises to strengthen the muscles.
Other methods to treat these injuries are medications, such as anti-inflammatory drugs, chiropractic care, and surgery. Work with your personal injury attorney to help match you with a clinic that can help with your neck and spinal cord injuries.
Neck and Back Injury Settlement Damages You Can Claim
Medical costs, missing income, and other bills can be included in the settlement amount. When filing for car accident claims, an experienced personal injury attorney can help you claim the following auto accident damages:
Medical Expenses
When you experience back or neck injuries following an accident, you may be facing high medical expenses as part of your recovery. This includes the costs for any medical treatment, diagnostic testing, and physical therapy that you have to undergo as a result of your injury.
Lost Income
If your injuries prevent you from returning to work or working at the same level as before the car crash, you may be entitled to compensation for lost wages and reduced earning capacity. You can also pursue damages for missed promotions, raises, or bonuses that your injuries prevented you from receiving.
Pain and Suffering
Known as general damages, this is a more subjective category of damages that may be difficult to estimate. The average back injury settlement will include damages for pain, mental anguish, loss of enjoyment of life, and emotional distress related to your injury.
This includes feelings such as depression, anxiety, and PTSD. In the case of a permanent injury, you may be struggling with the loss of enjoyment of life. If your injury has caused you to experience any limitations or restrictions in your ability to participate in hobbies and other activities you enjoy, you may be entitled to compensation for this.
An experienced personal injury lawyer can help estimate your pain and suffering damages, which typically make up a majority of the average settlement amount.
Property Damage
You can also claim damage to your property, including the cost of repairing or replacing any property damaged by your accident.
Wrongful Death
Wrongful death damages are those that surviving family members can claim if their loved one has died as a result of someone else's negligence. This can include compensation for funeral expenses, loss of income, the family's emotional suffering, loss of consortium, and other damages your personal injury attorney can determine.
Factors that Affect Your Back or Neck Injury Settlement
The amount of compensation you receive will depend on the specific details of your case, including your injuries and how they impact your life. The average settlement amount is influenced by the following factors:
Severity and Cost of Your Injuries
This includes the severity and duration of your pain, as well as any long-term physical or psychological effects. More severe injuries that take longer to heal will likely receive a higher settlement. Whether the injury is temporary or permanent can impact the settlement total as permanent injuries may result in additional medical expenses and a reduced ability to work.
When dealing with whiplash injuries, you may have some minor costs. If you have spinal cord injuries, then your expenses and time off will create more financial difficulty. Your car accident settlement will be higher if you have a catastrophic injury as opposed to minor neck and back injuries.
Who Is At Fault and Can Be Held Liable
The average settlement for car accidents is dependent on who holds responsibility for causing the car crash. There may be other contributing factors, such as your own negligent behavior or the weather conditions at the time of the accident.
Whether Your Attorney Can Negotiate a Neck and Back Injury Claim
Your car accident injury attorney will negotiate a fair settlement. They may decline the insurance company's initial offer in favor of a larger settlement. If the other party agrees to your neck and back injury settlement, then you can get compensated according to your needs. If not, your case could go to trial, which could result in higher damages depending on what the judge decides.
Your Insurance Coverage
The settlement amount may be affected by your available insurance coverage as well as any personal injury protection (PIP) or no-fault insurance benefits you have. Any compensation from your insurer will be deducted from your neck and back injury settlement.
The Statute of Limitations
It is important to be aware of the statute of limitations in your state, as this is usually limited to two years from the date of the accident. If the claim is against a governmental entity, that is usually restricted to 6 months. If you miss the deadline of the statute of limitations, you'll most often be unable to pursue a settlement for your neck and back injuries.
While there may be some exceptions to the statute, it's smart to speak to a lawyer before the time limit lapses. They can ensure you file all appropriate paperwork before the deadline.
Age of Car Accident Victim
The age of the victim is a contributing factor in the settlement because minors can claim additional damages. For example, a child may be entitled to greater compensation for future medical and educational expenses, pain and suffering, as well as other damages.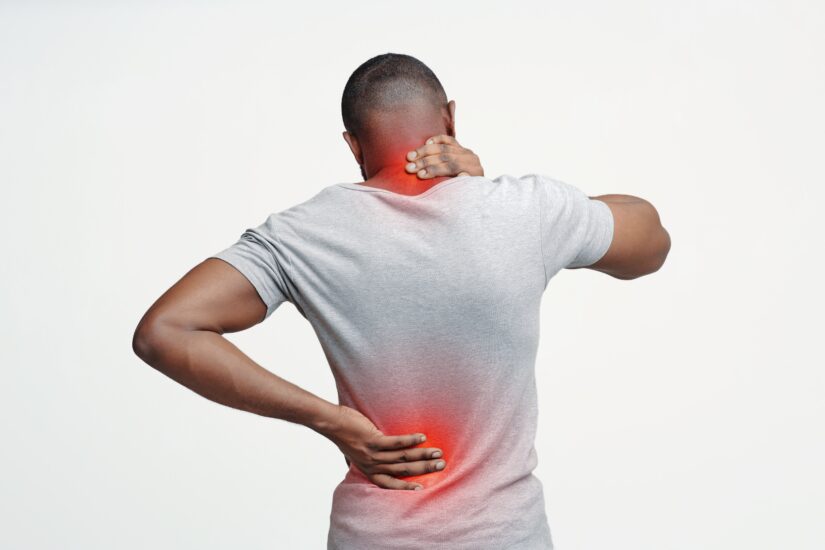 The Percentage You Are At Fault For
Another factor is if you contributed to your own accident. If you have played a role in your injury, such as speeding or failing to signal, this can affect the overall amount of compensation that you receive.
According to the law of comparative negligence in California, the damages that you receive can be reduced by the amount of fault attributed to you for your injury.
How to Calculate Neck or Back Injury Settlement
The amount of compensation that you can expect to receive will depend on a number of factors, including the trauma involved in the initial injury producing event, the severity and extent of your injuries, as well as any costs for treatment or lost income.
Other relevant factors may include whether your personal injury attorney can prove that the other party was entirely at fault for your accident. It is important to keep in mind that every case is unique, and there is no one-size-fits-all approach for determining back or neck injury settlement amounts.
Economic Damages
Economic damages in personal injury cases are calculated by adding up all the costs for your medical treatment, lost income or reduced earning capacity, and any other tangible losses due to the accident.
Non-Economic Damages
In addition to these economic damages, you may also be entitled to compensation for non-economic damages such as pain and suffering, emotional distress, and loss of enjoyment of life. These damages are calculated based on the severity of your injuries, as well as the duration and impact that they are likely to have on your life.
It may be a good idea to consult with a personal injury lawyer to get a more detailed assessment of your case in addition to an estimate for the amount of compensation that you can expect.
Average Settlement for Back and Neck Injury After a Car Accident In California
The average settlement for car accident back and neck injury cases in California is generally between $10,000 and $24,000. In more severe circumstances, you can expect your settlement to go up to a million or more.
The amount that you can expect to receive will depend on a number of factors, including the extent of your injuries, as well as any costs for treatment or lost income. Other relevant factors may include whether you can prove that the other party was completely at fault for your accident and how the accident has impacted your life.
How an Attorney Can Help You?
If you are pursuing a claim for back or neck injury settlement, it is a good idea to consult with an experienced personal injury attorney. An attorney can help you to understand the unique challenges and requirements that may impact your case, as well as any potential legal strategies that could increase the amount of compensation that you can receive.
Investigate Your Claim
An attorney can investigate your case, which may involve collecting and reviewing evidence, obtaining expert reports, reviewing your medical records, securing witness testimony, and more. This process can be complex and time-consuming, so having an experienced legal professional on your side can be incredibly helpful.
Your attorney can help you to gather and present evidence that proves that you were not at fault for the accident in question. To win compensation, you will have to prove that the defendant acted negligently. To do so, you must show that they owed you a duty of care, they breached that duty, their breach led to your accident, and you suffered damages due to that accident.
Negotiate Your Settlement
Personal injury lawyers can negotiate directly with the insurance company on your behalf, which can help to increase the likelihood of reaching a favorable settlement agreement. At the same time, having an attorney represent you can protect your legal rights and interests throughout the negotiation process.
While you can attempt to negotiate with the defendant's legal team or insurance company on your own, that wouldn't be advisable. You may not know about all of the relevant laws that relate to your case, and you may end up leaving money on the table by accepting the first offer you receive. A lawyer knows how to fight for you and ensure you receive a fair settlement.
Provide Services With No Upfront Cost
Many personal injury attorneys work with you on a contingency-fee basis. This means that you do not pay any fees upfront, and your attorney only takes a percentage of the settlement or award that they help you to secure. This allows you to pursue fair compensation for your injury without having to worry about incurring significant costs in the process.
Represent You In Court
If your case does go to court, having an attorney on your side can be invaluable. Attorneys are experienced litigators who understand the legal process and have the skills and knowledge needed to effectively represent you in court.
While a lawyer can take your case to court, it's important to keep in mind that a majority of personal injury cases are resolved without the need of a judge and jury.
Speak with a Personal Injury Claim Attorney About Your Back or Neck Injuries Today
If you suffered neck or back injuries from your car accident, it is important to seek medical treatment and legal advice as soon as possible. Working with an experienced personal injury lawyer can help you understand your legal rights and options and ensure that you are fairly compensated for the losses caused by your injury. Contact Maho Prentice Law now for a free consultation about your personal injury claim.